KOLIDA Instrument (KOLIDA)
The history of the KOLIDA begins in 1989 when Ma Chao, a 30 years old engineer in Guangzhou Survey Equipment Factory opened the first store in Guangzhou city with his co-founders.
The founders of KOLIDA all have background of surveying and mapping. Many of them are from surveyor's family, graduated from Wuhan university of surveying and mapping technology, worked in Government surveying office, or been trained in survey equipment factories in Switzerland and Japan.
The small store soon establishes itself as the most attractive shopping destination for the young surveyors and engineers in the city. In 1991 it became the exclusive distributor of two Japanese brands and started to expand to whole of China. In 1992 the company developed it own scientific calculator and program to use with total station.
Two researching & developing center were established in Changzhou city and Beijing city in 1993 and 1994. It laid the foundation for future development of all of opto-electronic instruments. Very soon, the first distance meter and electronic theodolite been introduced to the market.
KOLIDA pioneered the introduction of 100% made-in-China total station in the industry, based on the direct control of all processes, applying rigorous quality criteria through all stages of production. From 1995 to 2004, it spent ten years to become one of the most known surveying equipment brands in China.
In 2005, KOLIDA started expanding business network in overseas market and soon had distributor in Brazil, Argentina, Chile, India and other 20 countries.
Today the KOLIDA brand offers opto-electronic surveying instrument, GNSS positioning systems, LIDAR and UAV photogrammetry technology, combining innovative and sophisticated design with uniqueness of quality products. KOLIDA also operates in the software and accessories sector.
KOLIDA's products are manufactured in 5 company-owned sites, 2 of which are located in ChangZhou city, 1 in BeiJing, 1 in WuHan, and 1 in Guangzhou and by a network of long-standing and highly experienced contractors.
Each stage of the production process is directly monitored and controlled: from the selection to the purchase of raw materials (including external suppliers), from the fabrication of prototypes, to the planning and coordination of in-house and outsourced production.
As of December 31st, 2018, KOLIDA's distribution network extends across 65 countries. In China it is counting 400 Directly Operated Stores, brand's e-commerce website, a selection of regional logistic centers and service centers and the most important e-tailers.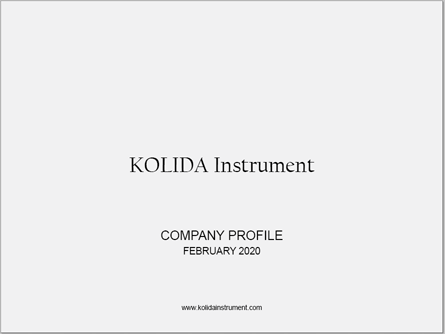 English Version 202201: https://drive.google.com/file/d/1JvqWSWv6HMkpoA6lFzNuQY6ZfJZoS2Sk/view?usp=sharing
Spanish Version 202009: https://drive.google.com/file/d/1tVBm-_LkN0tSj8C9MZ85Su89OjyxK_I_/view?usp=sharing